"The toughest thing about a startup is 'starting up'. Everytime you face a rejection, get back and stand strong."Says

Helpingo is a platform for students where they get real and genuine feedback about colleges from current college students, called 'seniors'. The students can ask all their doubts related to placements, branches, food, culture with the seniors of the colleges. Since this comes from the students studying there, the information is as real as it can get.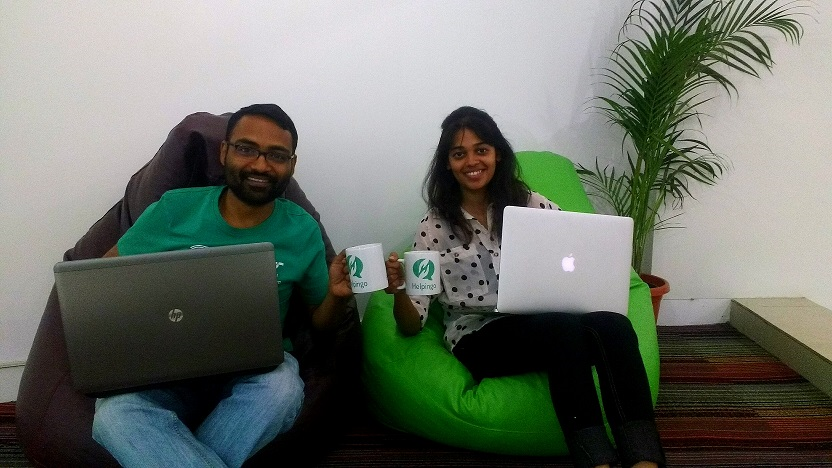 Helpingo was started last year by Ms. Ayushi Sinha and Mr. Anand, when Aayushi's cousin called her to ask about which college he should join. She could give him details about her college but couldn't tell him about other colleges. She had the same doubts and confusion while joining a college. Ayushi and Anand discussed and that's when they decided to give it a shot. This creative name "Helpingo" was thought by Anand which implies that help is just a ping away. Also, they are backed by Startup Warehouse Program which is a joint initiative between Nasscom 10000 Startups and Government of Karnataka. This helped them a lot in building their brand name.

Ayushi belongs to a middle class family from Lucknow. She did her schooling from City Montessori School and then went to do B.Tech from IIT Allahabad. Although her father is a businessman, her parents always preferred that she do a job in a good company for financial security. But she wanted to explore new things in life and that's when she quit her job and finally decided to go forward with Helpingo.

The toughest thing about a startup is 'starting up'. There are lots of things that need to be taken care of. She was completely confused if she should start up at a point when there is a financial crunch going on in her family. After few months of dilemma, she finally decided to take the plunge and figure out rest of the things later. Her co-founder, Anand, was instrumental in making her do this. Without him it would not have been possible.

The biggest hurdle was to find the initial users. Since this is a community led startup, a lot of things depend on how trustworthy they are as a brand. As they were new, it was tough for people to adopt it. They have had lots of conversations with students and their parents where they expressed their skepticism about using something new. But they went on to find the early adopters who could bring an element of trust, and the result seems to be good so far.

The thought of having created something new in the world is amazing. Once the calls are done on their platform, they call the students about for their feedback. When they say that the platform has been very helpful for them, their belief in the idea becomes stronger. Even if nothing goes right the entire day, one positive feedback from a user gives them enough motivation to keep going.

The need for a human advice is irreplaceable. Obviously we all have a data connection with tonnes of data about everything possible under the sun, but we will still be seeking human advices while making bigger decisions in life. Helpingo is enabling relevant human advices even more accessible using technology.

Though they might expand their idea into various other things, they will always keep human advices in the center of everything.

Ayushi believes that one should have a lot of patience. Things won't go well in the beginning. It will take some time for your idea to get adopted by people. But you need to keep moving. Everytime you face a rejection, get back and stand strong. It is the ability to withstand the not-so-good things in your startup that will take you the long way!