MenstruationJust the mention of this word on the public platform will raise some eyebrows. The taboo which has been created about women having periods hasn't even minimized a bit over the years, of what we call 'Technological Advancement". We can't free ourselves from the prejudices, even after being educated; "Let alone we dream about that change in rural India". But, there are those who dare to Dream and Change. When they see a problem, instead of waiting for others to solve it, they work for a solution. br>
We met one such person, who still thinks that she hasn't brought revolution. Mrs. Swati Bedekar, who changed the way we see 'Menstruation'.

"All the time when I was working in the interior part of the villages & tribal areas of Gujarat, while working on Science Education project in Tribal Schools; I noticed that girls were not coming to school. When I tried to find out the reason behind it, I got to know that either they were married or they reach the puberty". These were the reasons they were deprived of education- Swati says. After more interaction with the community, Swati found out that there were absolutely no means of menstrual hygiene in those houses. To make them aware them about the usage of sanitary napkins was not going to be of help as disposal of used napkins becomes a problem for them. And when you talk about using sanitary napkins, cost factor gets involved too.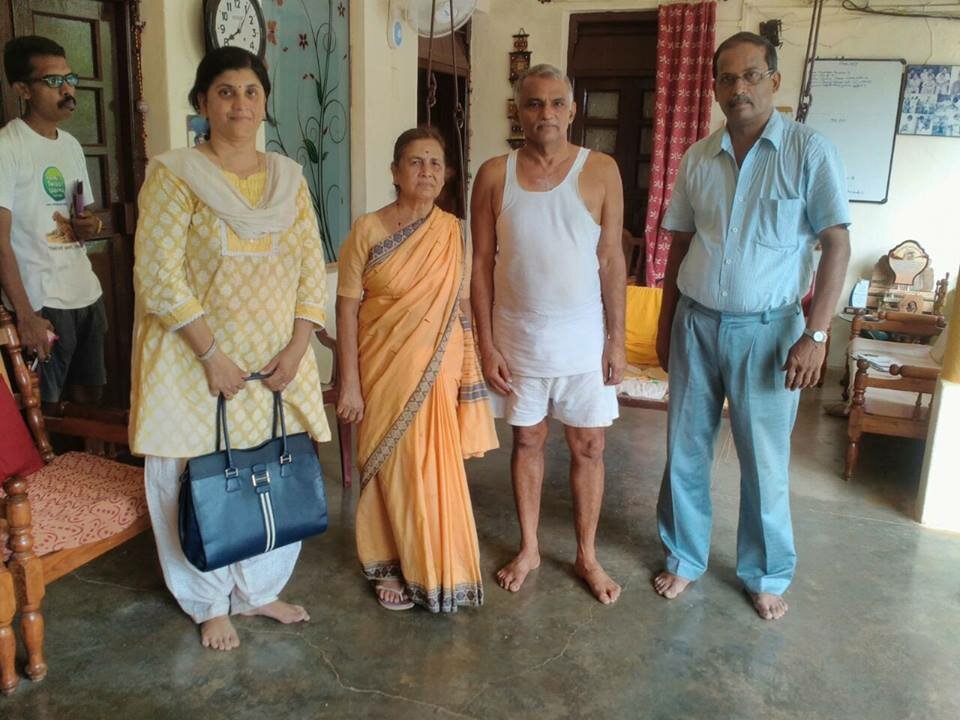 Mr and Mrs Bedekar with Dr.PrakashBaba Amte

In our culture as we have seen, women don't value themselves enough to worry about their health, and most families are also ignorant about it. But, Swati believes that the secret to a happy and balanced relationship is the sensitivity towards each other. "I wanted to develop a system of manufacturing sanitary napkins that would generate employment at every step." Quotes Swati.

Shyam Bedekar, her husband has developed the machines to produce "Sakhi"-Sanitary Napkins which are made with raw materials like tree bark and banana skin. Its absorbing capacity is better than those costly pads and hygiene is also promised. Made without using plastic, these sanitary napkins can be disposed easily. And for that, "Ashuddhinashak" is the solution. Terracotta incinerator which burns used pads to dust, with a simple procedure as same as lighting chulha. This way, rural women will not have to worry about disposal of used napkins or someone noticing it.

To make the urban women aware about "Sakhi" which co-incidentally suggests the concept of "Make in India", Mrs. Swati is meeting middle class women who can't go for job because of the responsibilities of their families. And as they can't leave home to seek employment, she is bringing employment to their home. Swati with the help of workers installs a unit of machine in their respective houses. On this machine, every 15seconds one pad can be made and the women are supplied with raw material by the workers.

The manufacturing cost of a pad is Rs. 1.50 and it is sold in Rs. 2.50.This way, these women earn 1rupee per pad. Also, Swati doesn't get any kind of profit from this work; it is purely a non-profitable business. Those women, who make pads at their home, can make these for women of their families as well.

Almost 70% of the urban women don't use sanitary pads during menstruation; and these women are not only from slums but our so called educated working women also ignore the fact that using a cloth instead of a pad is very unhygienic and dangerous for their health. Swati Bedekar, with her efforts wants to make a difference in the society with this initiative of hers. Although it is a small start, it is a start. She is spreading awareness among the slum women where there is lack of harmony between the man and woman of a family. Most of the times, it leads to domestic violence. As mentioned earlier, Swati believes that harmony between two life partners is the most feasible way to keep the women of your family happy and healthy.

" Most of the times, it leads to domestic violence. As mentioned earlier, Swati believes that harmony between two life partners is the most feasible way to keep the women of your family happy and healthy."