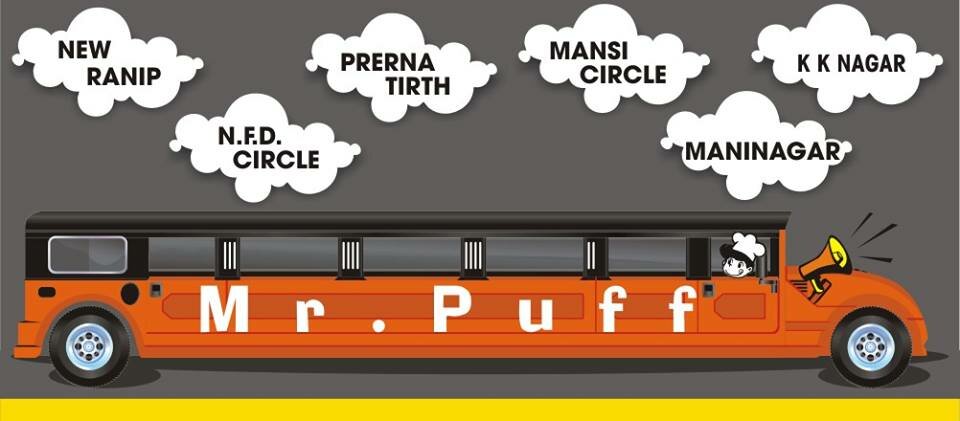 Puff, got a break for 10 minute in between classes so let's go go grab a puff and a soft-drink; Mr. Puff, our very own bakery is quite well known by Barodians. If anyone living in baroda says that they haven't seen a Mr. Puff outlet in their area, they are surely lying. I am sure; I will never get no for an answer, but hey how many of us really know the roots of this popular Mr. Puff. The one with the-orange background-yellow fonts-which is eye catchy from 100 meter distance, lies way back to the independence time and that to Pakistan,



Mr. Puff manages to give us a sense of excitement when exploring its story which we get while checking out the premium flavors of cakes they offer or the baked varieties we crave for. So the story goes like this, Mr.Dholandas Thadani moved to Mumbai, India at the time of partition from his hometown Sukkur, Sindh, which is now in Pakistan. Along with his family, he brought the flavors he experienced at the bakery J.B.Mangaram Bakery at Sukkur, Sindh. He settled in Mumbai for some time, but after a while to start earning; he decided to start making and selling bakery items. And for that, he shifted to Baroda with his family and that is how it started.

Mr. Thadani believed in the values of Mahatma Gandhi and that is why he kept the name of the bakery "Gandhi Bakery", and it also started on 2nd October, 1950 near Khanderao Market, Rajmahal Road. Initially there were only 2 helpers and Mr. Thadani himself, they used to bake dishes for the whole day and in the evening opened the shop to sell those items. The bakery not only holds the name of "Gandhiji", but it also reflects in the values they follow; honesty, purity, quality all an all -it is the yummiest representation of the values of Mahatma Gandhi. With a change in the generation, son of Mr.Dholandas, Mr.Ramesh Thadani, after his father, took up the command of "Gandhi Bakery" in his hands He continued his father's legacy, by adding up to it.

During his time, "Gandhi Bakery" had reached new heights of success continuing to follow the same values as before. Always trying to present new varieties and tasty fast food, they have never failed to maintain their hygiene and quality of the food that they serve. Also, it has been said that an ill person can also eat food products of "Gandhi bakery" as they maintain their ingredients, for example they add ajwain to their maida products.

After their successful journey of two generations, Mr.Sushil Thadani came on the gear and the credit of introducing the whole new globalized Mr. Puff goes to him. In 2002, he decided to give a whole new makeover to his father and grandfather's beloved "Gandhi Bakery" and made "Mr. Puff". He gave it a touch of modernization and started exporting baked products to the foreign countries and made Mr. Puff global. How could he forget Baroda, he introduced Mr. Puff food chain here and today with 28 outlets in baroda, anyone can easily find its outlet in every area.





"Following QHP -quality, honesty and purity; Mr. Puff still has a long way to go. He said" Mr. Mistry the executive Director, who represented Mr. Puff and gave us an insight about Mr. Puff. They are also planning to open 30 new outlets in Ahmedabad now and adding up to the 250 families which are already employed by them in Baroda already.

From pastries to parathas, the tasty food served by them is accompanied by a great line "mast munchies" which is also a delight when pronounced as "Mr. Puff Mast Munchies". So the next time when you visit the Mr.Puff outlet, don't forget to remember the yummiest legacy we are fortunate enough to have in Baroda.