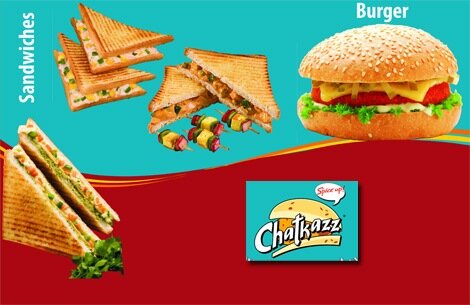 In my journey of 9 years I earned two things, trust and integrity- Mr Anand Ratnani CEO and Co Founder, Indie-delights Pvt Ltd, your Chatkazz.


Beginning;

Being in a garment industry for many years as an entrepreneur it was not satisfying for Mr. Anand. According to him, the talent that he possessed being educated and creative and even being young he thought of exploiting himself and make use of the available knowledge at an optimum level. I being a man, personally always think of performing and getting returns at the best. Being young he thought of creating his own start-up. He always believed that an effort never goes in wean and education always pays off. He shares before creating a start-up one should gain professionalism by working for others.

Effort;

I used to work 12 hours a day continuously, not waiting for results because I always think work should be oriented with performance and results come as an added benefit. Vada-Pav was a centre of attraction to me when I use to travel to Bombay. So while working in the garment industry, I thought of starting up a new business and took Vada Pav as an opportunity. The product which I sell today in the market was never much personified and I took it as a challenge. I will like to quote that "which are the three brands that come in your mind when you opt for television; LG, Samsung, Sony. Today when you talk about Vada Pav which is the name that shoots your mind first Chatkazz, Chatkazz, Chatkazz... "

Learning;

I learned from MC Donald's and Jumbo king how to personify FOOD, Ambiance, and many more things. I would rather say that I observed and I learned and today Chatkazz is the buzz word. They taught me that customer needs same taste, touch and feel at each and every franchise. Even the look matters.

Growing;

I started with two outlets completely handled by me and my wife; I borrowed capital from my Family and Friends. I was having a vision, would rather say a disruptive vision that I have a brand to develop. I owned 200 sq. Feet Central Kitchen and I always think that each and every process should have a standard and I completely force it to the franchisee owners as well. I made the production process visible to my customers. Three things matter the most when you are in the food business quality, taste and kitchen. It took me one year to understand the franchisee business. In the 1st year I had two shops, in the 2nd year moved onto four franchisees; I think this defines all. Now we are coming up with new products like sandwiches, burgers and many more... at bigger format. We offer three types of franchisees depending, upon the investment and size of outlet. There are three types that is Express, Cafete and Resto.

Existence;

Today we exist in 51 cities with 80 outlets functionally operating under the brand of chatkazz. Good news for all the Vada pav lovers, we are coming to UNITED STATES WASHINGTON, D.C. It's a first franchisee out of country me and my wife are personally taking care of it. It would open by this 10th of August. We get calls from Dubai, South Africa, Australia, etc. We first establish a master franchisee and then it guides other franchisees there. Every week we get two international calls asking for our franchisee and this is what we take it as our achievement.

Achievements;

I personally believe the thing that helped me and Chatkazz grow as a brand was the management skills that I had. Man is the most complex creation of god. Trust is one thing which you could create only once in life in a particular relation. Then entire life goes in preserving it. I will advise that try to attach people with your trust and integrity. We always say, get your first, Smart Eat and Value Treat at Chatkazz. We believe in flourishing together to enable ourselves and our clients to spread love and happiness. The first great USP of Chatkazz is to provide WIDE VARIETY and 100% VALUE for money to customers. We have been selected as the Top 100 Franchisee Opportunity in India – 2014 we are proudly one of the fasted growing franchisee in Quick Service Restaurant (QSR) Model.

Steve Jobs or Ratan Tata, who's more inspiring. I believe in Steve Jobs. Disruptive imagination and innovation are the two things that have inspired the world. Steve Jobs is a person who inspires you to apply your own ideas with the two things that he gave to the world, which I mentioned above Disruptive imagination and Innovation. Ratan Tata teaches you amazing leadership qualities and the definition of commitment and also what integrity and trust means. TATA is a brand name with which trust is an additional factor. Ratan Tata an amazing leader, people follow him on what he says not because he is a leader but people believe in him , but still Steve Jobs rule.

Advice for Young Start-ups According to me, every start up needs skill plus experience. Skills are derived according to the knowledge you have. Experience teaches you what is wrong and what is right. Trail and testing are only possible at grassroots. So when you are small, you are allowed to make mistakes. In fact I would say make mistakes that would teach you real lessons that would guide you when you are big. Learning from a big brand is no harm. Education is the most sincere friend, the most trusted one. At today's young age you people have amazing ideas, innovation, and a way of seeing differently at ordinary things. My advice would be: Be a spark that would make, generate a wave of change. Change things that are not meant to stay the way they are. Anyone didn't think of Vada pav as a franchisee business until I came, I saw and the rest is history.


" If the things are not giving you results don't be de-motivated. Because it is getting debited to your account which the nature is holding!! Be patient!!"